Stethoscope/Blood Pressure /听诊器/血压计
Tubing, Binaurals/Tubing Sets, Connectors 听诊器Y型替换朔料管
Item#200-6350 Price: $4.95/ea Packing: 1 ea Size: Y' Tubing, 22" PVC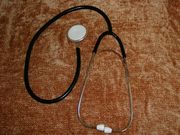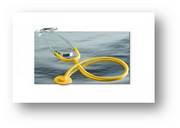 Spare part tubing for stethoscope.
Stethoscope Ear Tips 听诊器朔料替换耳朵
Item#200-6360 Price: $2.50/bag Packing: 2pcs/bag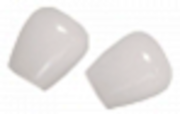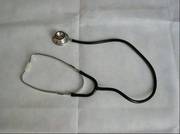 Dual Head Stethoscope 双面听诊器
Item#200-6380 black Item#200-6381 gray Price: $9.95/ea Packing: 1pc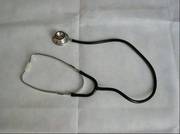 Dual-side design 22" latex Free "y" Tubing. Adjustable chrome- Plated brass binaurals.
Labtron® Sprague Rappaport-Type Stethoscope 22" Gel Series听诊器
Item#200-6390 Black regular mfg#602
Item#200-6400 Slate Blue Gel mfg#602SL-GEL
Item#200-6410 Seafoam Gel mfg#602SF-GEL Price: $15.95/ea Packing: 1/box Made in Taiwan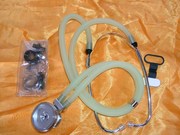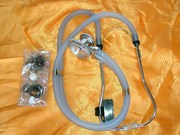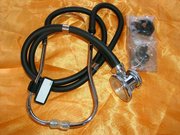 Chrome-plated external spring binaural. Complete with accessory kit. Features
attractive 22" latex-free gel colored tubing.
Pocket Aneroid/Hand model 压力表式血压计(袖珍型出诊用)
Item#200-6420 Price: $29.00/ea Packing: 1pc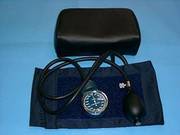 Portable instrument Calibrated,300mm Hg Deluxe Air release valve. easy to use. Adult cuff
standard. No return item
Blood Pressure Kit with Attached Stethoscope 2合1带听诊器压力表式血压计
Item#200-6430 Price: $39.00/set Packing: 1set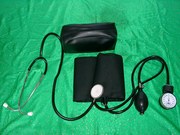 2 in 1. This unit has an Attached single head stethoscope and self-adjusting D-Bar cuff. Comes complete
with case, manual and record chart.Adult size
Bulb & Valve for Sphygmomanometer 血压计配件
Item#200-6440 Bulb $5.00/ea
Item#200-6450 Valve $6.00/ea
Item#200-6460 Bulb & Valve $9.00/ea Packing: 1pc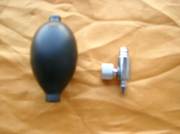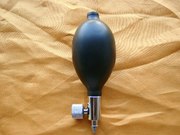 Baumanometer® Wall Aneroid with Basket 带筐压力表式血压计(墙上型)
Item#200-6470 Price: $135.00/ea Packing: 1ea Large display.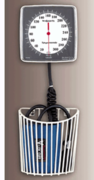 It is built to agree with our master instruments, which are traceable to United States National Institute of
Standards and Technology. Each instrument is equipped with our calibrated V-Lok inflation system.
Baumanometer® Mercury Sphygmomanometer Wall model 33 带筐水银血压计(墙上型)
Item#200-6480 Price: $162.00/set With Basket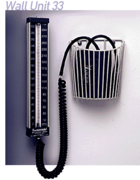 300mm Hg swivel type for Wall mounting. Includes 8 ft. extension Tubing and calibrated V-Lok cuff.
Baumanometer® Roll-By® Mobil Aneroid with Basket/Floor Model 带筐压力表式血压计(落地式)
Item#200-6490 Price: $290.00/ea Packing: 1pc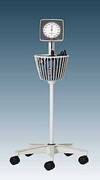 8 feet of extended tubing. Large display. Easy-to-read. A 300 mmHg Aneroid
instrument for mobile use.
Digital Portable Blood Pressure Monitor/Wrist "欧姆龙"数字显示血压计(手腕型)
Item#200-6500 Price: $85.00/ea Packing: 1 pc Size: 3"L x 2.2"w x 4"D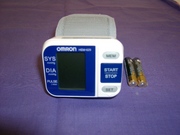 Measures blood pressure and pulse from wrist. Completely automatic inflation and deflation. Large,
easy to Read digital display. Carrying case 2AAA batteries included.
Digital Automatic inflation Blood Pressure Monitor/desk model Omron®
"欧姆龙"数字显示血压计(台式)
Item#200-6510 Price: $89.00/ea Packing: 1pc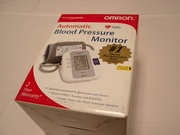 Preset switch lets user control inflation level, stores last reading in memory. Large easy to read
digital display, operates on 4 C batteries or AC adapter (both not included)
Digital Automatic Blood Pressure Monitor with Easy Wrap Cuff/desk model/Omron®
"欧姆龙"数字显示血压计(台式)
Item#200-6520 Price: $129.00/ea Packing: 1 pc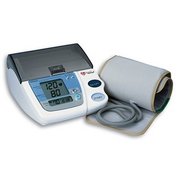 Easy wrap cuff is preformed for quick and proper fit (fits arm 9" to 17"), built-in compartment for
cuff storage, large, clear digital display,AC adapter and 4AA batteries Included.
Lumiscope® Digital Advanced Wrist Blood Pressure Monitor 数字显示血压计(手腕型)
Item#200-6530 Price: $79.00/ea Packing: 1pc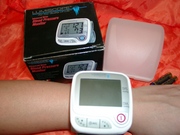 Provides accurate vital health information in seconds, with automatic time and date stamp.
4-user memory(99 readings per user) with 5 average modes(hour, day, week, month and total).
4 alarm settings. Irregular heartbeat detector. Kit includes monitor with attached cuff,
2 AAA batteries, storage case. Instruction manual(English and Spanish), and quick-start guide.
Lifetime limited warranty.