Forceps/Scissors /Hammer/镊子/剪刀/诊查棰
Thumb Dressing Forceps-Straight 直头镊子
Item#200-8400 Price: $5.95/pc Packing: 1pc Size: 5.5" long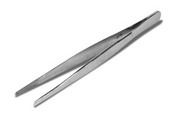 Stainless steel, for handling needles, gauze, cotton balls etc.
Angle Tip Forceps 弯头镊子
Item#200-8410 Price: $5.95/pc Packing: 1pc Size: 4.5" long

Stainless Steel. Sensitive spring action and fine tapered point allow good
control for handling needles or small objects.
Straight Stainless Steel Scissors 直頭剪刀
Item#200-8420 Price: $3.50/pc Packing: 1pc Size: Straight 4.5"
Item#200-8430 Price: $4.75/pc Packing: 1pc Size: Straight 5.5"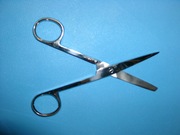 Curved Stainless Steel Lister Bandage Scissors 彎頭紗布剪刀
Item#200-8440 Price: $4.95/pc Packing: 1pc Size: 5.5" long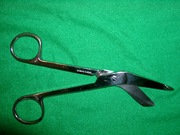 Special design for cutting surgical tape, bandages, cotton roll and more.
Kelly Hemostatic Forceps/Stainless Steel 直头/弯头止血钳
Item#200-8450 Straight $4.50/ea
Item#200-8460 Curved $4.95/ea Packing:1pc Size: 5.5" smooth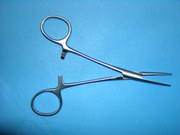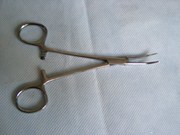 9" Sponge Forcep/Stainless Steel-Straight 長直头止血钳/夹棉球点拔火罐
Item#200-8470 Price: $25.00/ea Packing:1pc Size: 9" smooth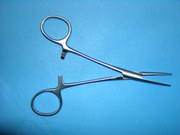 Taylor Percussion Hammer 红三角形诊查棰
Item#200-8480 Price: $4.50/pc Packing: 1ea Size: 2" x 0.5" x 0.5"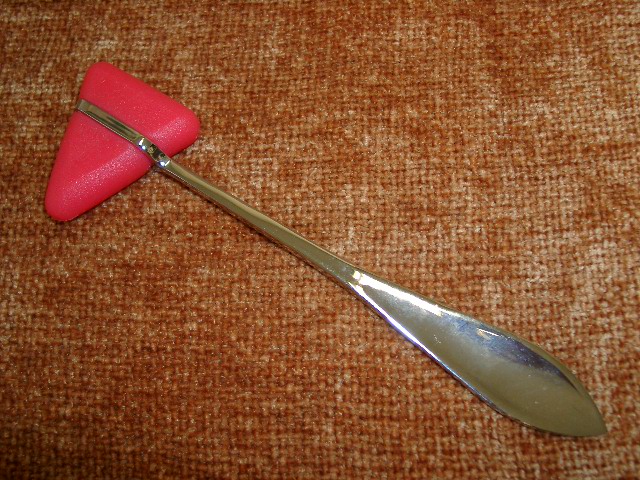 7" Red rubber wedge shaped head molded onto chrome-plated spoon shaped Handle.
Buck Neurological Hammer 多用途诊查棰
Item#200-8490 Price: $11.95/pc Packing: 1 pc Size: 7.2" handle, 2.8" x .6"dia.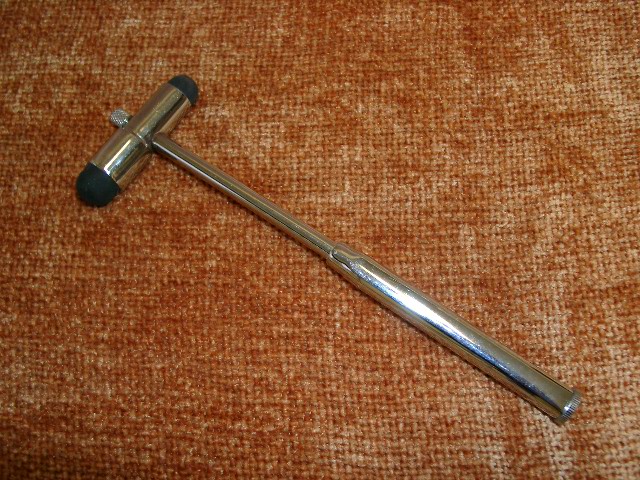 Black rubber tips on both ends of the head. Chrome-plated octagonal handle with
compartment to house stainless steel needle and brush for dermatome testing.
Wartenberg Neurological Pin Wheel
Item#200-8500 Price: $14.95/pc Packing: 1 pc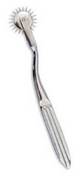 Used for dermatome testing. Ribbed, 7" long chrome-plated handle with precision
machined stainless rotating spur. 1.2" dia rotating wheel with 22 pin stimulating needles.
Babinsky Hammer
Item#200-8510 Price: $15.95/pc Packing: 1 pc

A round shaped head on this neurological hammer permits percussion from any angle. 1.8" dia rubber
hammer head may be mounted in 2 positions on the 9" handle.
Neurological Set
Item#200-8520 Price: $39.00/set Packing: 1 pc
Now, there is no need to buy each component of your neurological exam separately. We have made
this process easy by offering a chrome-plated, cost-effective neurological set complete with 4 instruments.
Each latex-free neurological set includes:
7" buck neurological hammer octagonal handle dual heads, removable needle and brush;
7.5" taylor hammer black triangular head; 7" wartenburg pinwheel handle and rotating spur;
8" babinski percussion hammer adjustable head can be oriented in 2 directions octagonal handle.
Additional babinski head included, additional 12" handle for babinski hammer included, blue 13" x
1" storage container.